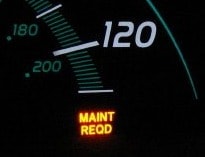 So in the van I drive each day there is this "Maint Reqd" light that comes on every time you start it up. When the van is running as it should the light comes on briefly and then shuts off.
When you are nearing the time for an oil change the light will stay on and flash as you are in reverse and then shut off when you put it into drive. Like a warning/reminder that you need to take some action soon.
And even after the vehicle has been checked and you think everything is ok, if the code isn't reset the light will stay on all the time. A sign that something is still not right on the inside.
And so it has been in my life recently as well....
When Dominic first moved to Tyler for this new job we didn't know how long we would have to live apart but we said we could do anything for 6-12 months. During that time, overall, things were pretty good. We cherished our phone conversations that we had every night and enjoyed our weekends as a family. We did that for 8 months. During that time we had a baby, put our house on the market, sold it, purchased a new one in Marshall and moved. In addition, during that same time I was made promises by my then boss that I could continue to work from the home when we finally moved. 2 weeks before the move my bosses employment with my company was no longer and it was learned by me that all of his promises had not been communicated to the "powers that be".
So in the midst of one of the biggest life changes for our entire family I was also fighting to save/keep the job I had with a company I have been with for almost 13 years. I have been given a "trial period" to see how/if it can continue and I say prayers everyday that it will....soon time will tell with that.
Well as you can imagine during this time the "Maint Reqd" light in my own life started showing up.
At first it was just that reminder that something needed to be taken care of in my heart. It was the Holy Spirit prodding me...trying to get my attention that if left alone/ignored a full-blown warning would ensue.
But I am a stubborn woman and one that wants to not only have the appearance that I have it all together...but actually HAVE it all together by my own doing - so I can take the credit right?. And when I don't have it all together- which if you must know is most days - I get frustrated, angry, discontented and negative. All lovely qualities and surprisingly enough...none are found in the Bible under fruits of the spirit. hmmm....
So as you can about imagine when I stopped showing evidence of love, joy, peace,
patience
, kindness, goodness,
gentleness
, goodness,
faithfulness
and
self-control
in my life - the dynamics of our family began to change and cracks started to form in our foundation. And once a crack has started and the water starts to rise....if the foundation isn't solid it can start to crumble.
Friends I have found myself here. The "Maint Reqd" light is on and shining brightly ALL the time. Warning....warning... It isn't a pretty place to be when your actions cause hurt and frustration. When it is evident that negativity has permeated every aspect of your thinking once again and it hasn't just hurt you but it has hurt the people closest to you that you love the most.
For weeks I have focused on everything that I see is "wrong" about my husband. Refusing to allow myself to see the truth because believing the lie helps justify my awful behavior and admitting that I am to blame for anything is so very difficult for me.  I started thinking that this move was a mistake - we loved better when we were apart....when the truth is that I hadn't put much effort into loving well here....I just expected that once we were back together that we would be one big happy family and everything would come easy.
But it isn't always easy.
I worry about what will happen with my job on a daily basis and always feel that I need to "prove" myself more than I ever did before. And if I fail...if I lose the job what does that say about me? Because how I look to you from the outside seems more important lately than how my insides look to God.
I obsess over the kids and their transition here. Mornings are chaos it seems. I get up almost 2 1/2 hrs before we need to leave the house at 7:35am and yet it is always a rush. And I get overwhelmed and stressed and don't know how to appropriately deal with it so I end up barking at someone - causing more hurt. My motives may be good...getting everyone, including myself off to school/daycare/work by 8am. But the way I act as I try to carry out my objective isn't right.
Please tell me I am not alone in this struggle!!
But at times such as this I need to be honest about these struggles....and what I haven't been willing to do about them.
I haven't been actively seeking God's Word. Sure I pray and I go to church...but I don't make time to read His Word. I have plenty of time for blogging and Facebook and checking e-mails, but not enough time for Him.
And I don't seek accountability like I should from other believers. I would rather you see the facade then the real me because I am not sure many people would stick around if they knew how crazy my minds gets at times!
But this has to change! "Maint Reqd" in the vehicle handbook says "Take your vehicle to an appropriate Toyota mechanic immediately".
And I too need to respond immediately - but I need your help!! First I would love some recommendations for a devotional maybe that I could do each day. I have a hard time just opening the Bible and reading. Maybe a devotional would give me some direction..something where I can be led to read more in the Bible based on that day's devotion. What works for you??
And secondly I need your help in staying accountable. This is the part I really don't want to do...but I know that if I want things to change I HAVE to do it.
So if you see me ask me how I am treating my husband and my kids. Am I showing him respect, and I being patient with my kids or am I letting "life" overwhelm me again? If you ask me how I am doing I will always say "I'm fine". Guaranty it!! Email me and share your experience in these areas...what has worked for you (besides hiring a FT nanny/housekeeper) because that isn't in the budget!! :)
I would love to make this a place where we can fellowship together and be real. No pretty clothes, or makeup...no plastered smiles...but real, honest accountability. I promise you that even if I do all of these things I won't ever have it all together and somehow I need to come to a place where that is OK.
I know this post has gotten overly long and I apologize....thank you for allowing me to share my struggles with you. It is ugly....but I believe in the promises that God makes beauty from ashes. But I have to be willing to do a little "work" too...so that my friends is where I start!